HONG KONG, Nov 8, 2023 – (ACN Newswire) – On November 4, 2023, the "Immutable Puppet – Preservation and Revitalization of Glove Puppetry" exhibition and cultural exchange workshop, organized by Beijing ProBono Foundation's Next Wave Project Fund, took place in Beijing.­­­
This event was conceived and initiated by Lin Cuiran, a student from Beijing No.8 High School Sino-American Program, and was graced by the presence of distinguished guests, including Lin Chengmeng, one of the sixth batch of municipal-level inheritors of intangible cultural heritage in Zhangzhou City, and Cai Wenwei, the founder of ShengYu Glove Puppetry.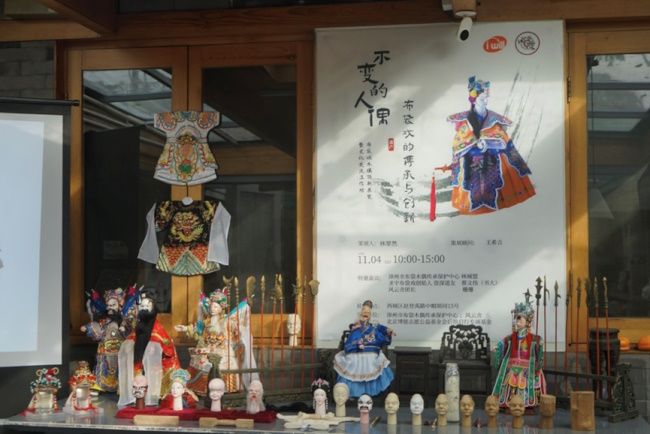 Embracing Cultural Roots in the New Generation – The Finest Form of "Heritage"
At the outset of the event, Lin Cuiran warmly welcomed the attendees and guests, sharing her motivation for organizing the workshop. She aimed to share her hometown Quanzhou's unique culture with a wider audience, enabling people to experience the allure of traditional culture and continue its legacy. Safeguarding and passing down intangible cultural heritage is a complex and time-consuming task, and a long-term task of fusion of tradition and modernity. Lin's goal was to infuse traditional culture with fresh vigor and vitality through innovative dissemination and inheritance methods. By doing so, she aimed to raise public awareness of intangible cultural heritage preservation and delve deeper into the essence, originality, and inherent charm of glove puppetry. The event was designed to expand the influence and reach of glove puppetry.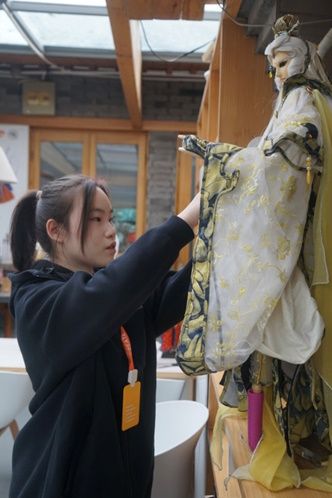 The event featured Cai Wenwei, or ShuDa, the founder of ShengYu Glove Puppetry, who explained the "Origins of Taiwanese Glove Puppetry" using Taiwanese puppets. Additionally, Lin Chengmeng, one of the sixth batch municipal-level inheritors of intangible cultural heritage in Zhangzhou City and a teacher at the Zhangzhou Glove Puppetry Heritage Protection Center, elucidated the "Process of Creating Puppet Heads in Zhangzhou Glove Puppetry" for the audience. Lin's vivid presentation transported the audience to the world of Zhangzhou Glove Puppetry, a thousand miles away from Beijing, offering them a tangible experience of the intersection between traditional glove puppetry and contemporary reality and opening new horizons for the dissemination of intangible cultural heritage.
"Expressing" Tradition through Cosplay – Embracing "Integration" in the Modern Era
While reinforcing the dissemination of information about intangible cultural heritage through traditional methods, Lin Cuiran actively explored the aesthetic appeal of such heritage. Leveraging advanced media science and technology, she sought to enhance its influence and dissemination effects, aiming to win the hearts of a broader audience.
To achieve this, she invited the leader of FengYunShe, a modern society deeply passionate about glove puppetry, to participate in the event. FengYunShe seamlessly blended second-dimensional culture cosplay with glove puppetry, bringing puppets to life through dynamic real-life portrayals. This approach infused the puppets with vitality, allowing the audience to intimately experience the distinct characteristics of glove puppetry characters. Intangible cultural heritage is steeped in tradition, while animation technology and visual effects epitomize modernity. The creative fusion of these elements resulted in a traditional yet contemporary expression, merging the traditional nostalgic ambiance with the visual impact of real-life 4D performances and fostering cultural exchange between old and new traditions.
Following hours of discussion and exchange, the audience gained profound insights into the intangible cultural heritage of glove puppetry while forging lasting friendships. As the curator, Lin Cuiran expressed her hope for more young individuals to join the endeavor of preserving and innovating intangible cultural heritage. With a dedicated approach to selection and innovation, they can collectively perpetuate China's enduring classics, ensuring that the public comprehends, accepts, and cherishes glove puppetry as a valuable intangible cultural heritage.