PHOENIX, Arizona, Oct 13, 2023 – (ACN Newswire via SeaPRwire.com) – In a highly coordinated plan designed to coincide with Global Handwashing Day on Oct. 15, Planet Water Foundation will improve the lives of 36,000 people by deploying 20 of its community-based solutions and programs that improve the health and wellbeing of vulnerable populations suffering from contaminated drinking water supplies and lack of handwashing facilities.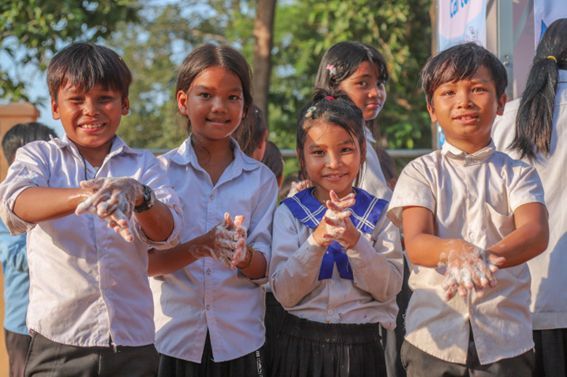 The series of 20 project deployments in six countries is the result of corporate partners supporting Planet Water Foundation programs across Cambodia, India, Indonesia, Mexico, Philippines and Vietnam. Each project includes an AquaTower with integrated handwashing stations, reusable water cups for students, an AquaSan surface disinfection system, and school and community-based hygiene education programming with a focus on handwashing. The 10 steps to proper handwashing are reinforced using illustrations on the AquaTower signage and also as a graphics wrap on the reusable cups.
The United Nations reports that 818 million children lack a handwashing facility with water and soap at their school, and 462 million children attend schools with no handwashing facilities at all [1]. In 2022, it was estimated that hand hygiene alone is responsible for 394,000 deaths from diarrhea and 356,000 deaths from acute respiratory infections. As well as preventing a multitude of diseases, hand hygiene can help avoid significant financial costs resulting from sickness and death [2].
Planet Water Foundation and its program partners are timing deployments to support and bring greater awareness to this need through broadened corporate engagement around handwashing education with the series of events spanning Oct. 9-14 culminating on Global Handwashing Day on Oct. 15.
"Our Global Handwashing Day projects are specifically designed to support these communities with improved drinking water conditions while raising awareness on the importance of proper handwashing practices," said Mark Steele, founder and CEO of Planet Water Foundation. "The collective effort of our donor partners provides tangible impact in the communities where we all operate."
Planet Water Foundation's Global Handwashing Day program partners include Capital One Philippines, Cole Haan, Columbia Sportswear, Electrolux Group, Escudo Antibacterial, Mativ, Metito, Microsoft, The Starbucks Foundation, Watts Water Technologies, and Xylem.
About Planet Water Foundation
Planet Water Foundation is a non-profit organization focused on bringing clean water to the world's most impoverished communities through the installation of community-based water filtration systems and the deployment of hygiene education programs. Planet Water Foundation projects are focused on children, schools, and rural/peri-urban communities across Asia and Latin America. Since 2009, Planet Water has deployed more than 1,700 projects that provide clean water access to more than three million people across 26 countries. Learn more at www.planet-water.org.
Contact Information
John Deotrakul, Director, Global Communications & Development, john@planet-water.org  +1 (877) 711-3083
Copyright 2023 ACN Newswire via SeaPRwire.com.