JAKARTA, Oct 23, 2023 – (ACN Newswire via SeaPRwire.com) – While the stakes are soaring high, fintech companies in Indonesia are vying to get on top and dominate the FSI market. With the World Financial Innovation Series (WFIS) scheduled for 24 – 25 October 2023, fintech buyers are coming in the hundreds to the country's foremost FSI event and take back the best solutions for their firms. Furthermore, the platform will also be powering an Awards & Gala Dinner to reward and celebrate the best of FSI on 25 October from 5 pm to 9 pm.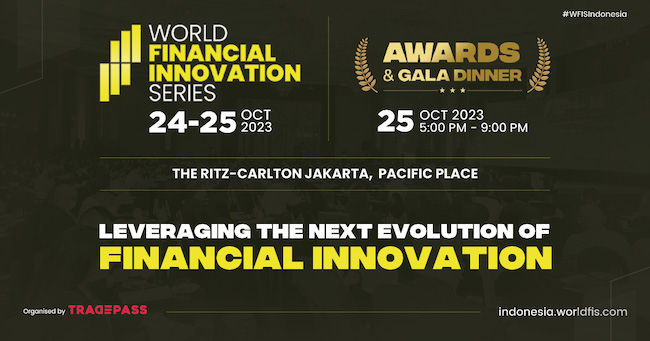 Jakarta's most iconic 5-star hotel, The Ritz-Carlton Jakarta, Pacific Place has been chosen as the venue for the 2-day event. As a long-standing annual platform, WFIS over the years has emerged as the home turf for Indonesia's leading fintech companies to demonstrate their thought leadership and cutting-edge solutions. The reputation for hosting the strongest buyers from the region is the primary reason that entices the fintech companies to participate at WFIS. From the Heads of Cards, Payments, Retail Bankings to CIOs, CTOs, CISOs, and almost the entire band of key decision makers, the platform is a favourite amongst all.
Debuting this year with their stellar solutions at the exhibition arena and a keynote session during the conference, the industry giant IBM is leaving no stone unturned for a massive display of their expertise. Meanwhile, Roy Kosasih, President Director of IBM Indonesia, expressed his views, "The market of generative AI in finance is projected to reach $9.5 billion globally by 2032. Organizations today, especially in financial services, are under immense pressure to act now or risk falling behind AI-augmented competitors. To fully realize the potential of AI, the technology must, however, be built on a foundation of trust and transparency."
"IBM Indonesia is working with banks and financial institutions to help them derive the full benefit of AI in increasing efficiency, automating processes, and improving customer experience. With ethical AI governance in place, we ensure Indonesia organizations will stay competitive in the digital era while meeting regulatory requirements", he added.
To orchestrate the most advanced, next-gen fintech show, WFIS will be packed with the most influential line-up of organisations including IBM, Newgen, 8×8, Ab Initio Software, Credit Bureau Indonesia, Perfios Software Solution, Provenir, iProov, BUSINESSNEXT, OpenText™ AI Cloud, Effiya Technologies, Infosys Finacle, OutSystems, Perkasa, FEITIAN Technologies Co., Ltd., IntellectAI, Reward360, PowerCred, Veefin Solutions, AI Rudder, Eranyacloud, Synnex Metrodata Indonesia, Trejhara, Temenos, Systems and Sumsub.
Looking at the grandiosity of the event, Indonesia's very own regulatory body for the financial services sector, Otoritas Jasa Keuangan (OJK) will be sharing crucial FSI wisdom through its Department Head of the Financial Sector Technology Innovation, Digital Assets and Crypto Assets Regulation and Licensing, Asep Iskandar. While stating his vision behind participating at the platform, Asep Iskandar said, "In the pursuit of ensuring integrity of digital financial service that is continue to be evolving through various financial innovations, OJK aims to fortify and enhance Digital Trust within the country's financial ecosystem to promote consumer safety and confidence as well as financial stability."
The platform's buzz has gone so far and wide that the upcoming edition has even garnered the support from Indonesian Bankers Club and Center for Indonesian Policy Studies which have brought more recognition and better participation for the same.  
Another very population attraction of the event has been its curated agenda that has inspired many FSI professionals over the years and successfully brought to limelight some of the most topical and intriguing industry topics. Some of topics from the upcoming edition include, 'Digital and AI-Driven Innovations and Disruptions in Banking', 'Empowering FSI with Cloud', 'Big Data Beyond the Hype', 'Unlock the Power of Hyperautomation', 'Elevating CX and Security in Digital Banking', 'Streamlining Legacy System in Banking' and many others.
For more information about the event, log on to: https://indonesia.worldfis.com/
About Tradepass
Providing access to the global emerging markets, Tradepass brings together people, products and solutions to power events for unparalleled business and networking opportunities. Being the most accredited event company, it helps organizations: enter new markets, grow sales pipeline, close prospects, raise capital and identify the right solution-providers.
As a deal facilitator, Tradepass is always determined about exposing the most agile liquid growth markets, to enable all-round scalability and growth.
Media contact:
Shrinkhal Sharad
PR & Communication Lead
shrinkhals@tradepassglobal.com
+ (91) 80 6166 4401
Tradepass
Copyright 2023 ACN Newswire via SeaPRwire.com.