Lisbon, Portugal, Tokyo and Aichi, Japan, Nov 9, 2023 – (JCN Newswire via SeaPRwire.com) – Kagome Co., Ltd., (Kagome) NEC Corporation (NEC) and DXAS Agricultural Technology LDA (DXAS), a joint venture between Kagome and NEC, have introduced an agricultural ICT platform, "CropScope," which combines AI farming advice and automatic irrigation control functions compatible with pulse drip irrigation(1), to tomato fields in northern Italy and Portugal. In northern Italy, CropScope was introduced for the first time as a field trial conducted from April to August of this year, resulting in increased yield and requiring less irrigation compared to a field where the platform was not introduced. The platform was also commercially introduced recently to a large-scale tomato field in Portugal, and high yield was achieved.The three companies aim to contribute to sustainable agriculture by promoting environmentally friendly and profitable farming by expanding the areas in which CropScope is introduced, while also confirming reproducibility and effectively responding to water shortages at farming sites, which are challenges faced around the world.
Background
Recently, in addition to soaring agricultural materials and energy prices, climate change, including drought, has severely damaged the cultivation of agricultural crops around the world. For sustainable agriculture, measures against water shortages have become an urgent issue. In order to resolve this, small and frequent irrigation is known as a cultivation method that reduces water consumption while maintaining the optimal soil water content. However, this method requires careful management while maintaining the fluctuating soil moisture content at an optimum level, and is not widely used because it is complex and requires a large workload for farmers with large or multiple fields.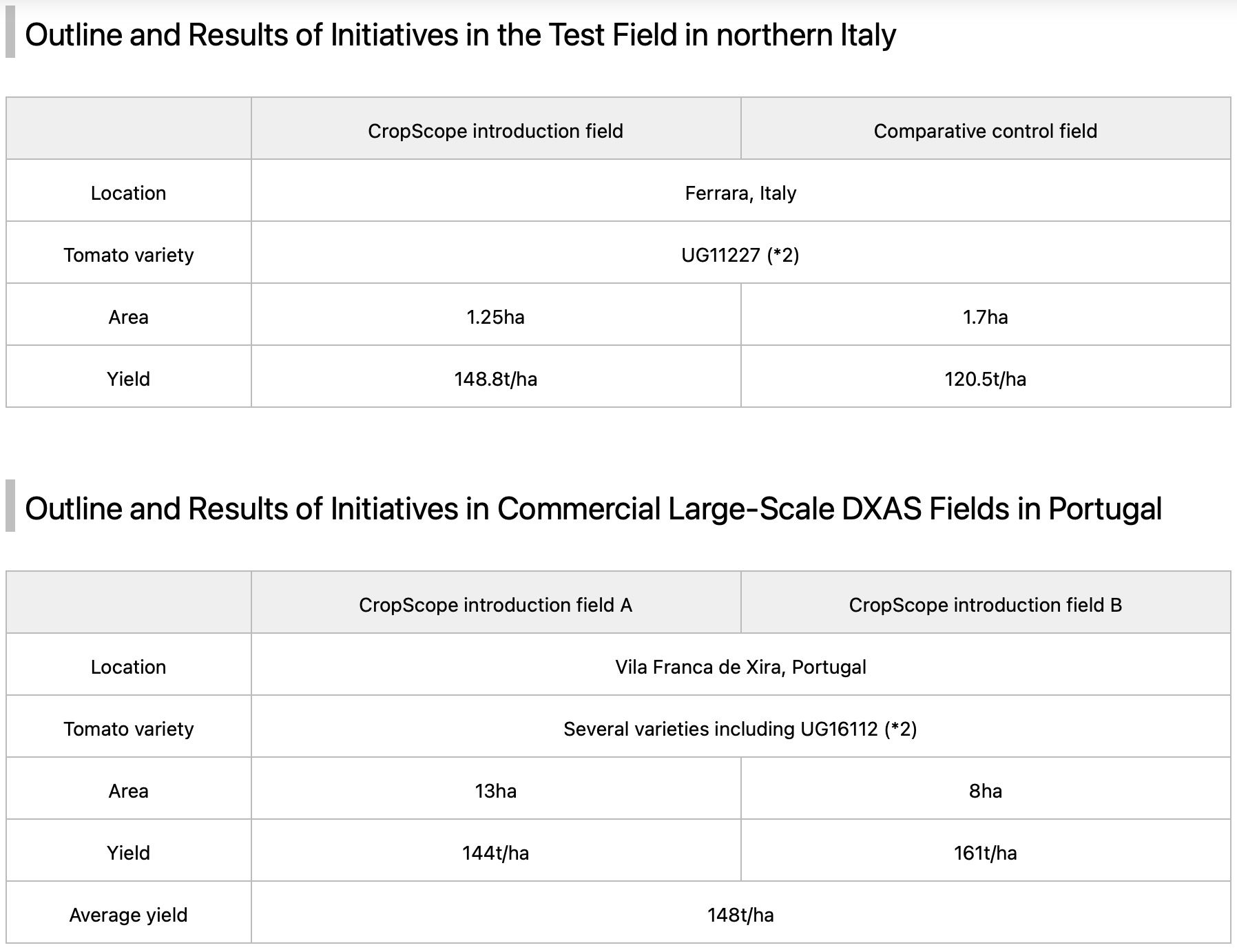 Outline and Results of the Initiatives
The three companies introduced CropScope services, which consist of AI farming advice and automated irrigation control functions compatible with pulse drip irrigation, to tomato fields in northern Italy and Portugal.A field trial of CropScope in northern Italy was able to increase yield by about 23% with about 19% less irrigation compared to a field that did not introduce the platform. It was confirmed that this system will produce good results even in new cultivation environments where climates, soil, etc. differ from those in the regions where CropScope was previously introduced. In Portugal, by combining the skills of experienced agronomists, it was able to obtain a high yield of 148t/ha on large commercial fields of about 21ha (total of 2 fields).
Comments from the farmers in Italy and Portugal
"We are extremely proud of the results achieved through the use of the CropScope platform in our tomato fields in Ferrara, Italy, thanks to the irrigation technology provided by Scarabelli Irrigazione(3) using a United Genetics variety of tomato. It has been an innovative journey that has concretely demonstrated how technology can be a valid ally of agriculture, especially at a time when environmental challenges and sustainability needs are increasingly pressing. The introduction of CropScope has marked a significant turning point in the management of crops, allowing us to optimize the use of water – a resource as precious as it is limited – and at the same time increase yields significantly. The adoption of CropScope has stimulated renewed interest in agriculture, attracting new talent to the sector and demonstrating that agriculture can be both traditional and cutting-edge," said Dr. Gianluca Vertuani, Gestioni Agricole Vertuani in Italy.
"Congratulations to CropScope and its cutting-edge technology, in collaboration with agronomist instructions, the platform has obtained meaningful results from this campaign in fields of significant size. The industrial tomato crop is one of the most difficult to produce, especially in the current unstable farming environment, which is why the support provided by CropScope is so needed for daily control of fields. Farmers will be collaborating with CropScope and DXAS for more sustainable agriculture in Portugal in the near future and this is very important for our sector," said Mr. João Geada, CEO of Herdade do Caldas in Portugal.
Future development
The three companies plan to incorporate the knowledge gained from this initiative into the machine-learning of CropScope, and to improve the accuracy of AI farming advice and strengthen solutions by repeating field trials and increasing reproducibility. In addition, DXAS will reinforce its support for agricultural management by spreading this service to the worldwide processing tomato market.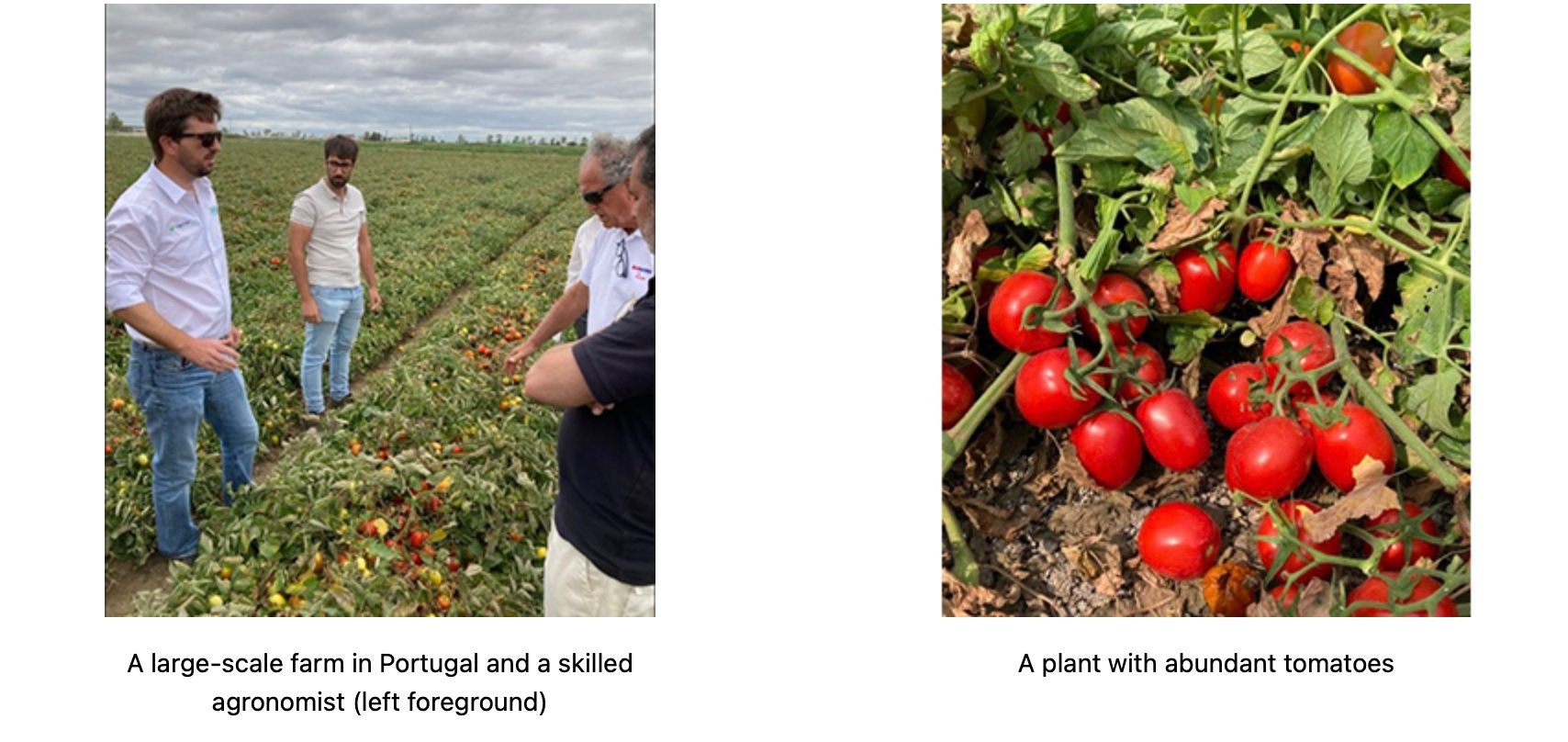 (1)Pulse drip irrigation is a cultivation method in which the amount of water and fertilizer required by a crop is given in many portions, and the optimum amount of soil moisture for the crop is maintained.
(2)"UG11227″ and "UG16112" are varieties of tomatoes from the Kagome Group's United Genetics Seeds Co.
(3)"Scarabelli Irrigazione" is an irrigation system partner with the field trial project in Italy.Share
About NEC Corporation
NEC Corporation has established itself as a leader in the integration of IT and network technologies while promoting the brand statement of "Orchestrating a brighter world." NEC enables businesses and communities to adapt to rapid changes taking place in both society and the market as it provides for the social values of safety, security, fairness and efficiency to promote a more sustainable world where everyone has the chance to reach their full potential. For more information, visit NEC at https://www.nec.com.
Copyright 2023 JCN Newswire via SeaPRwire.com.