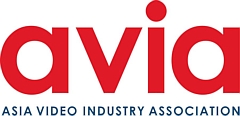 BANGKOK, Oct 13, 2023 – (ACN Newswire via SeaPRwire.com) – Over 150 industry leaders gathered in Bangkok for the Asia Video Industry Association's (AVIA) Thailand in View conference, for a day of discussions centered around the State of Video in Thailand, the Supremacy of Content and Boosting Advertising Revenue, before closing off with a keynote address on the Big Picture.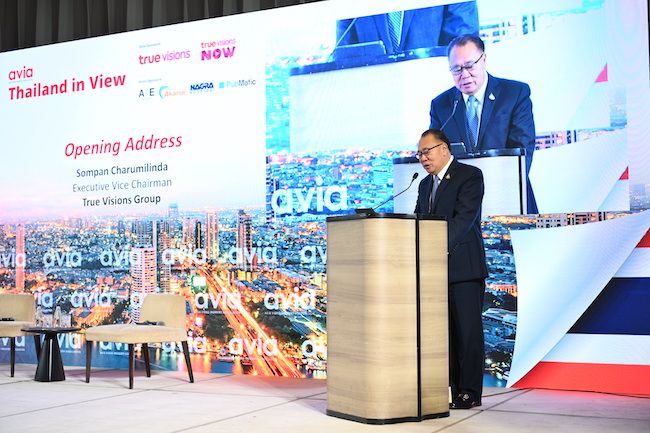 There was much optimism on the future of video and content, with many speakers agreeing that it was indeed Thailand's time on the world stage. In his welcome address, Sompan Charumilinda, Executive Vice Chairman, True Visions Group, said that in a world where content was resonating and spreading across borders, we've now seen the success of Asian, and Thai content, with its heritage of content production second to none.
Commissioner Pirongrong Ramasoota of the National Broadcasting and Telecommunications Commission (NBTC), Thailand, expanded on the potential for Thailand, sharing that soft power was now a major national strategy, to address the lack of unified regulations and the lack of a strategic database of its creative and content centre, for effective policy execution. With 11 sectors to focus on, from film and gaming to fashion, although it was too early to predict its success, it was certainly a welcome direction. Commissioner Pirongrong also added that its key role was to regulate as well as promote the audio and video landscape, to make it fit for purpose in the digital age, economically, socially and culturally. With the strength of the Thai industry lying in the diversity of its content, the NBTC was also looking to promote content that reflected diversity and cultural uniqueness, and with the potential to be coproduced with other countries as well.
Content was also a key focus for the streaming platforms. Kanokporn-Jay Prachayaset, Country Manager, WeTV Thailand, Tencent Thailand, shared that while growth has slowed down post pandemic, WeTV remained optimistic, pursuing local originals more aggressively, and taking another step into producing original variety content. And for both iQIYI and WeTV, AI was already in play, increasing efficiencies and cost reductions, with Parnsuk (Poppy) Tongrob, Country Director for Thailand, iQIYI, adding that "iQIYI is AI presented by creative talent."
Winradit (Win) Kolasastraseni, President, Digital Media, True Digital Group, also said that production was not just for the Thai audience, but for a global audience. However, what you do next after investing in local content was key, with a need to increase the value creation upstream to further downstream in distribution and monetization. "People are now recognizing that Thai can be a Korean option, or even a better version," said Win.
For Danny Chung, Head of Talent and Content Development, THEBLACKSEA, there were technical hurdles that needed to be overcome such as infrastructure and government assistance, which was essential to the growth of Korean content and culture to the world. While there was no lack of content, there also needed to be the exchange of opportunity. "Neighbours within Asia have their own strengths and weaknesses, we can help each other, and give our pool of talent global visibility and the platform to access the rest of the world," said Chung.
However, with piracy remaining a scourge in Thailand, Sirapat Vajraphai, Director of Copyright Office, Department of Intellectual Property (DIP), Thailand, placed emphasis on public awareness to understand the importance of copyright to reduce copyright theft. The general population has to understand that it is illegal and hurting the ecosystem and the creative economy, and ultimately hurting the consumer. And with creative content changing at a very fast rate and moving into streaming, what the DIP is doing is to enhance the fundamentals to match what is changing, and trying to change the law to place special emphasis on the rights of actors and how they can be better protected for streaming and online.
Expanding on the topic of Showcasing Thai Soft Power to the World, Surin Krittayaphongphun, President of TV Business and Executive Director, BEC World, said that soft power was very important for the entertainment industry and for its content to travel the world, and soft power was the weapon to bring more visitors in and showcase the country as well. For Birathon Kasemsri Na Ayudhaya, Chief Content Strategy, Investment & Partnership Officer, CP Group and True Corporation, soft power was about building brand love for Thailand. "Soft power is created by emotional value and emotional connection and video is the intersection of every form of emotional communication," he added.
However not all video was perceived equally, as shown in the results of AVIA's Thailand consumer research on usage and attitudes towards mass and premium OTT platforms, presented by AVIA CEO, Louis Boswell. Although mass platforms, such as social media and user-generated content, marginally outperformed premium OTT at the category level in terms of having high quality content, this result was driven mainly by two high volume UGC platforms. When looked at as individual services, 7 of the top 10 platforms ranked as having the highest quality content were premium OTT. Furthermore, when it came to the highest attention levels, 6 of the top 10 services were premium OTT. And for video platforms that Thai consumers would recommend, 7 of the top 10 platforms were premium OTT.
For Rathakorn Surbsuk, Head of Addressable TV Solution – Indonesia, Thailand, and Vietnam Cluster, GroupM Nexus, premium was not just talking about the price, but also the quality of content, and a safe environment for brands, with content produced by professionals. Said Surbsuk, "Clients can open their stores anywhere, but they would choose the right environment and the premium location that offers quality. . . in order to differentiate themselves from competitors and position themselves in the right place that reflects positively for the brand." He also predicted that in 3 years' time, the level of spending on premium OTT will grow five-fold.
Closing off the conference with his view on the future of content was Group Chief Executive Officer of The One Enterprise, Takonkiet Viravan. For Viravan, each project had to have a different balance between commercial and art to be successful, and it was becoming more and more important today, as you could no longer depend just on local advertising. With the need to go international, the content should be Thai as the selling point, but the execution and the style of storytelling needed to skew more towards western and international preferences, as a good balance. Although it was more of a challenge, it also gave more opportunities to tell different stories that appealed to different people, he said.  "You have to know your product and know which demographic it will appeal to. You have to put it where the viewers are," added Viravan. And with the strong ecosystem that One Enterprise had as a content creator and distribution channel, coupled with the launch of their own OTT platform, OneD, producing their own originals to attract the streaming audience, Viravan remained cautiously optimistic for the future.
Thailand in View is proudly sponsored by Gold Sponsors True Visions and True Visions Now, and Silver SponsorsA+E Networks Asia, Akamai, NAGRA and PubMatic
Link here for a selection of photos from the event. Visit the event website for more details and photos.
About the Asia Video Industry Association
The Asia Video Industry Association (AVIA) is the trade association for the video industry and ecosystem in Asia Pacific. It serves to make the video industry stronger and healthier through promoting the common interests of its members. AVIA is the interlocutor for the industry with governments across the region, leads the fight against video piracy through its Coalition Against Piracy (CAP) and provides insight into the video industry through reports and conferences aimed to support a vibrant video industry.
For media enquiries and additional background please contact:
Charmaine Kwan
Head of Marketing and Communications
Email: charmaine@avia.org
LinkedIn: www.linkedin.com/company/asiavideoia | Twitter: @AsiaVideoIA
Copyright 2023 ACN Newswire via SeaPRwire.com.